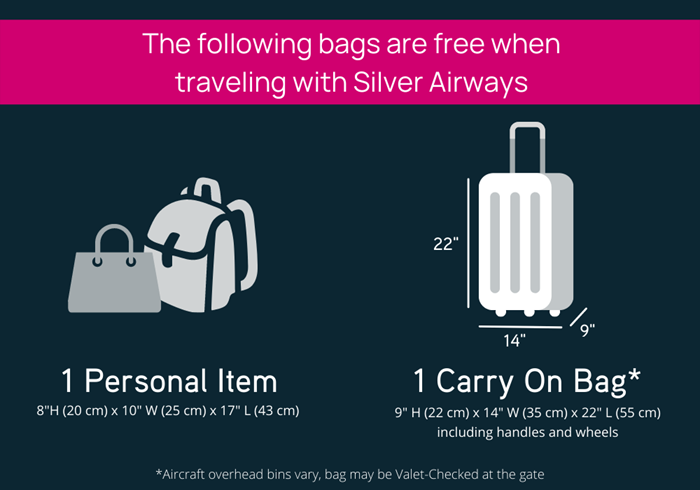 Every passenger on Silver Airways is allowed one free carry-on bag and one personal item.
Personal Item
Personal items must fit easily in the confines under a passenger seat or fit in an overhead compartment regardless of where the item is eventually stowed. Examples of Personal Items include, but are not limited to:
Small Backpack
Briefcase
Camera / Camera Case
Lady's purse, pocketbook, or handbag
Diaper bag
Pet contained in a carrier that can be properly stowed
These must measure 8"H (20 cm) x 10" W (25 cm) x 17" L (43 cm).
Please familiarize yourself with our Prohibited Items that are not allowed on our flights. For more information on dangerous goods, visit the FAA's Pack Safe page.
The following items may be permitted on-board and do not count as Personal Items:
Items of loose clothing, such as Hat, Overcoat or Wrap
Umbrella
Crutches, canes, walker
Approved medical devices (Oxygen concentrator, braces or other prosthetic devices, Orthotic positioning device, Life vest style defibrillator)
Food to be consumed onboard
Approved child restraint seat
Fully collapsible stroller
Service animal
Carry On Item
Carry On items should measure no more than 9"H (22cm) x 14"W (35cm) x 22" L (55cm), including handles and wheels.
Carry-on items include duffle bags and small roller bags that will fit in the overhead bins on our ATR-42/72 aircraft. Please note, our SAAB aircraft has no overhead bin storage so all carry-on bags will be valet checked.
Checked Baggage
Silver Airways will accept checked baggage with a maximum weight of 50 pounds (23 kg) per bag and a maximum outside dimension of 62 inches (157 cm) per bag in exchange for any applicable service charge (see Optional Services).
Baggage Service Charges paid online, through Reservations, or at the airport are Non-Refundable. When paying baggage service charges online, travelers may pay for a maximum of 2 checked bags. All checked bag prices are charged per bag, per person, one-way.
When check-in requirements are not met or you have exceeded the checked baggage pieces limit (more than 2), it is possible your baggage may not arrive on your flight. If this occurs, your baggage will be sent on the next available flight with space permitting, tagged as 'Voluntary Separation' and when applicable, standby in addition to the standard checked baggage tag. It is the responsibility of the passenger to return to the airport for the retrieval of the impacted baggage upon notification of arrival.
For a trip that includes one or more connections, bags will be checked to your final destination, and the service charge will apply for checking a bag from your origin to your destination. For a trip that includes a voluntary stopover, your bags will be checked to your stopover point, where you will collect your bags. When you resume travel, you may check your bags again, subject to applicable charges from the new point of check-in to the destination.
Please check our Optional Services for details on baggage fees.
Overweight Checked Items
Please be aware that certain overweight items of sporting equipment such as surfboards, scuba equipment, and fishing gear may incur additional baggage service charges, and items over 84 inches in length cannot be carried. Baggage service charges apply at any point where bags are checked. Service charge amounts are charged per person, per bag, one-way - see note below regarding baggage service charges when travel involves Silver and another airline.
If your baggage needs require you to check additional baggage or baggage that is over the listed size and weight limits, please note the additional costs for overweight and oversize bags as shown in our Optional Services.
Baggage service charges for overweight and/or oversize bags cannot be paid online and are collected at airport check-in as a charge for more than 2 bags.
When checking more than 2 items, the additional items (no more than 10 permitted) will be loaded on a standby/space available basis and handled in accordance with voluntary separation baggage rules.
Delayed Baggage
Please keep in mind that due to Silver's fleet being made up of ATRs and SAABS, during the high season (holidays, spring break, and peak summer), we might encounter weight and balance issues due to an increase in baggage. For the safety of our passengers and crew, we will have to remove bags. If this happens to you please report your delayed bag to an airport team member as soon as you arrive.
After reporting a delayed bag you will be given an ID number that you can use to track your bag(s) online using the Silver Airways delayed baggage tracking system.
Prohibited Items
Carry-on Baggage:
The Transportation Security Administration publishes a list of items that can be packed in your carry-on bags.
Carry-on baggage may be required to be planeside valet checked prior to boarding the aircraft due to the size of the overhead bins in our aircraft. As a result, certain items are prohibited from being transported in the cargo compartment and Silver Airways requires that the following items be brought on board inside a personal item such as a backpack or purse rather than valet checked at the gate or aircraft:

Spare lithium batteries (for portable devices/laptops)

Smart Bag lithium battery packs

eCigarettes and vaping devices


Prohibited items for both Carry-on and Checked Baggage:
The Transportation Security Administration publishes a list of items that can be packed in your carry-on and checked baggage.
Please review our entire list of prohibited items in our Hazardous Materials section which includes but is not limited to:

Balance Gliders / Hoverboards with Lithium-ion batteries

Samsung Galaxy Note 7

Liquid Nitrogen (not accepted)

Flammable liquids
Ticketed by a Silver Airways codeshare partner or interline partner
The baggage allowance and service charges of the first carrier in the itinerary may be applicable. For travelers who purchased a full-fare first-class ticket, with a connecting Silver Airways flight, no bag service charges apply when checking in with Silver Airways.
For United MileagePlus credit cardholders, United MileagePlus® Premier members, and United connecting customers traveling in premium cabins or to long-haul destinations, United baggage service charge waivers may now apply when checking in with Silver Airways as the first operating carrier. Please see an agent at check-in for further information and eligibility.
Bag Costs
Active-duty U.S. military personnel get up to 2 free of charge checked bags up to 70 pounds each with a maximum dimension of 62 linear inches; all other baggage service charges and rules apply for checked baggage beyond that exemption. This allowance does not apply to the spouse or dependents of military personnel. Silver also offers a discount to active-duty personnel on their leisure travel. To receive this discount please call 1-801-401-9100.
To view our overweight bags, checked bag charges, and more please check our Optional Services.